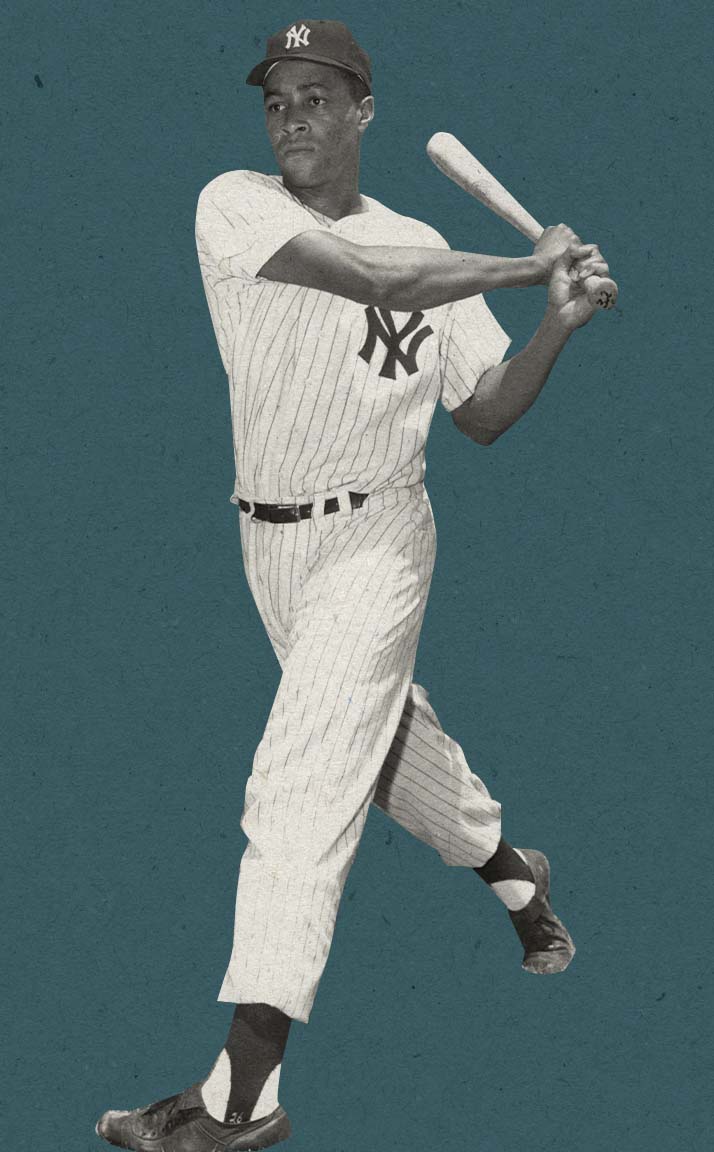 Elston Howard*
Catcher, Left Field, First Base
New York Yankees
PLAYER STATS:
Batting Average .274
Home Runs 167
Runs Batted In 762
(both NgL and MLB combined)
TEAMS:
Kansas City Monarchs (1948-1950)
New York Yankees (1955-1967)
Boston Red Sox (1967-1968)
New York Yankees (1969-1979) as coach

USA
Elston Howard*
Catcher, Left Field, First Base
New York Yankees
Flip Card

Elston Howard Breaks the Color Barrier With the New York Yankees (April 14, 1955)
CAREER HIGHLIGHTS AND AWARDS:
12x MLB All-Star (1957, 1958, 1959, 1960 (2x), 1961 (2x), 1962 (2x), 1963-1965)
6x MLB World Series Champion (1956, 1958, 1961, 1962 and 1977, 1978 as coach)
MLB American League MVP (1963)
2× MLB Gold Glove Award (1963, 1964)
New York Yankees retired Howard's uniform number 32 and erected a plaque in his honor in Monument Park on July 21, 1984
A native of St. Louis, Missouri, Elston Gene Howard joined the Kansas City Monarchs in 1948 as a 19-year-old outfielder and played with the team for three seasons. Although he signed with a New York Yankees' farm team in 1950, he missed the 1951 and 1952 seasons due to his military service in the U.S. Army.
In 1953, he played minor-league ball and the Yankees invited him to spring training the following year. On April 14, 1955, he became the first Black player to take the field with the team.
In the eighth inning, during his first time at bat, he hit a single to center field that allowed All-Star Mickey Mantle to charge home from second base.
He was a dominating force for New York his entire career. He hit a home run in his first at-bat in the 1955 World Series against the Brooklyn Dodgers, had a breakout season hitting .348 with 21 home runs and 77 RBI in 1961, and was named the American League's "MVP" in 1963, the first time a Black player in the AL won that honor.
This 12-time All-Star earned the title of "first" many times during his career. A two-time Gold Glove Award winner in 1963 and 1964, Howard appeared in 10 World Series as a player, winning four in 1956, 1958, 1961 and 1962. He returned to the Yankees as the AL's first Black coach and helped the Yankees tally two more World Series wins in 1977 and 1978.
At 51, Howard died from a rare heart disease on December 14, 1980. The Yankees retired his uniform number 32 and dedicated a plaque in his honor at Yankee Stadium on July 21, 1984.