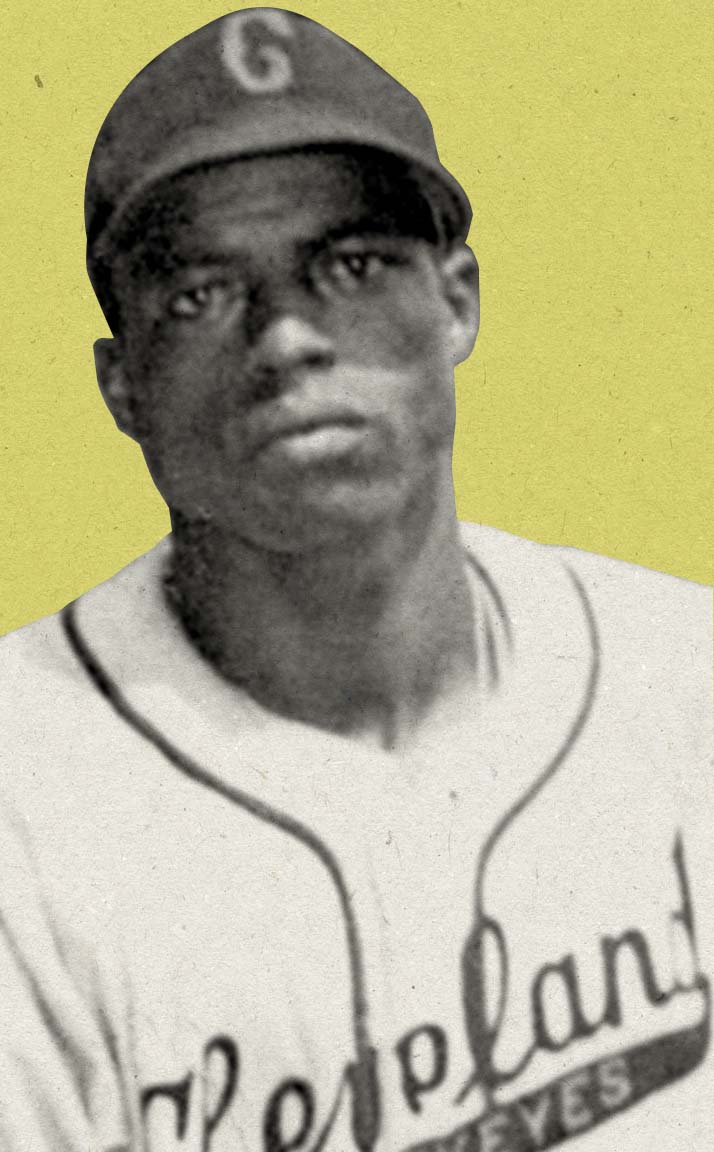 Sam Jethroe*
Center Field
Boston Braves
PLAYER STATS:
Batting Average .275
Home Runs 57
Runs Batted In 264
Stolen Bases 134
(both NgL and MLB combined)
TEAMS:
Indianapolis ABCs (1938)
Cleveland Buckeyes (1942-1948)
Boston Braves (1950-1952)
Pittsburgh Pirates (1954)

USA
Sam Jethroe*
Center Field
Boston Braves
Flip Card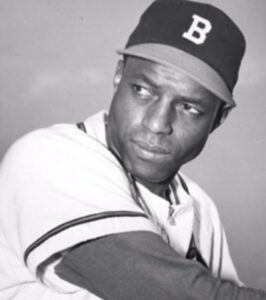 Sam Jethroe Breaks The Color Barrier With The Boston Braves (April 18, 1950)
CAREER HIGHLIGHTS AND AWARDS:
5x Negro Leagues East-West All-Star (1942, 1944-1947)
2x Negro American League Batting Champion (1944, 1945)
Negro World Series Champion (1945)
3x Negro American Stolen-Base Leader
MLB NL "Rookie of the Year" (1950)
2x NL Stolen-Base Leader (1950, 1951)
Sam Jethroe, nicknamed "The Jet" for his amazing speed, was born in Mississippi, but grew up in East St. Louis, Illinois. From 1942 to 1948, he played for the Cleveland Buckeyes and led the league in stolen bases three times. He won two batting titles and was instrumental in the team's two-pennant wins in 1944 and 1945 and Cleveland's first Negro World Series victory in 1945.
On April 15, 1945, at the request of Boston city councilman Isadore Muchnick and Pittsburgh Courier sportswriter Wendell Smith, Jethroe and two other Negro Leaguers, Jackie Robinson and Marvin Williams, tried out with the Boston Red Sox.
Boston's general manager Eddie Collins allowed them to proceed. During the tryout, the crowd yelled racial epithets and the players were rejected by the team. Ironically, the Red Sox remained all-white until 1959 when it became last MLB team to integrate.
Five years later, on April 18, 1950, Jethroe became the Boston Braves' first Black player. He earned "Rookie of the Year" honors that season and led the National League in stolen bases in his first two seasons.
After retiring from baseball in 1954, Jethroe worked in a factory in Erie, Pennsylvania, for several years and played in the city's semi-pro league. He and his wife opened Jethroe's Bar and Restaurant, a steakhouse that thrived until the early 1990s.
In 1994, he sued MLB to collect pension payments that he and other Negro Leaguers did not qualify to receive due to the discriminatory barriers that prohibited them from playing before 1947. MLB's pension rule was that players had to play four-full years to qualify. Jethroe played only three years and seven days. Despite the lawsuit being dismissed, in 1997 MLB awarded annual payments ranging from $7,500 to $10,000 to Negro Leagues veterans, including Jethroe.